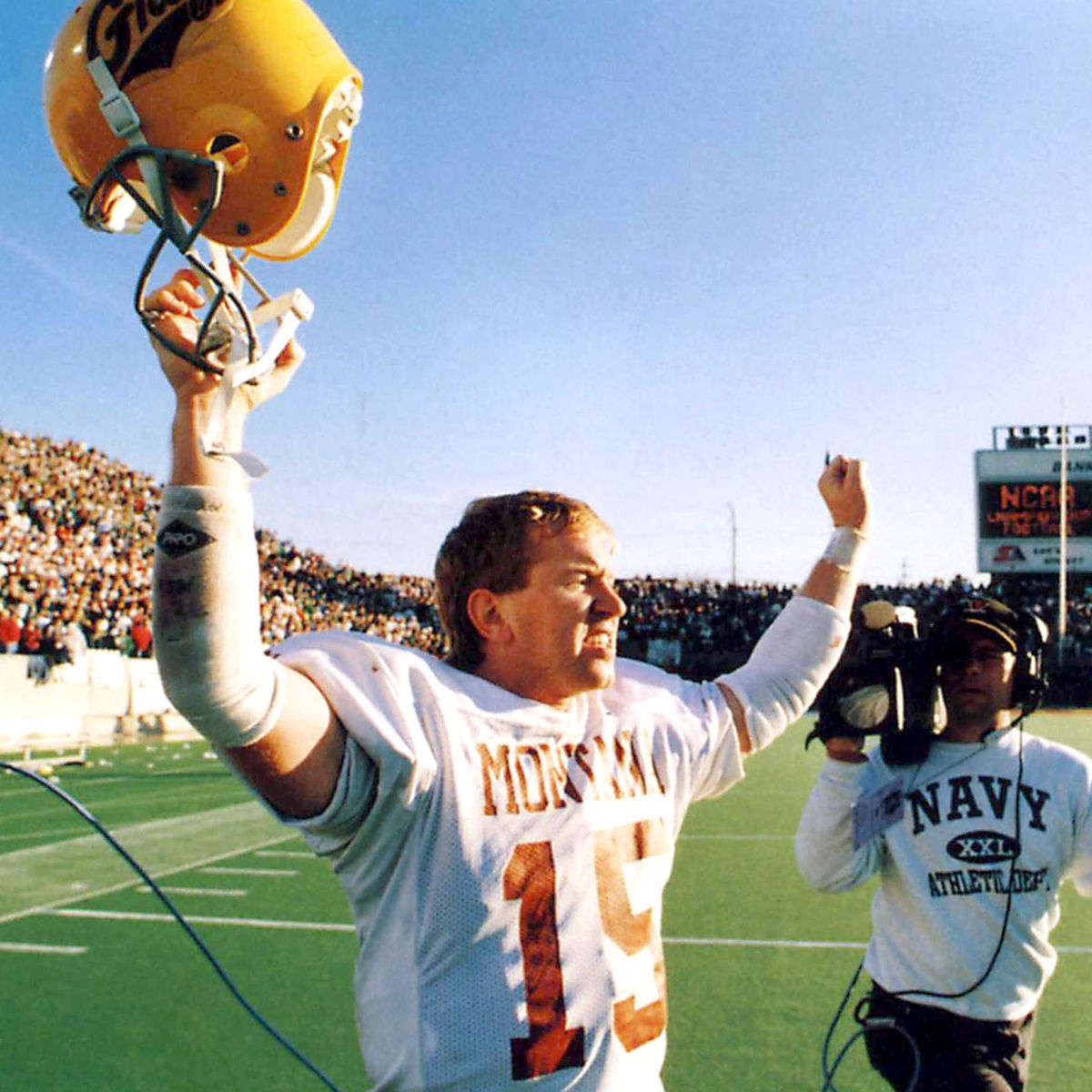 Dickenson's greatness a catalyst for Montana's rise
Matt Wells remembers a most vivid moment, a sequence that first caused him to question if Dave Dickenson was a mere mortal from Great Falls, Montana or something all together different.
Wells, a former All-America wide receiver who still ranks second all-time in Montana Grizzlies' history in career receptions, played alongside Dickenson for three full seasons. As Don Read's innovative offense attack continued to befuddle opposing defenses and Montana chased its second straight Big Sky Conference championship during the 1994 season, Wells has a single moment burned into his memory. Wells does not remember the specific opponent or the situation in the game but he does remember rewinding the VHS tape of the highlight over and over again.
Wells remembers the slippery Montana quarterback absorbing a hit, spinning away, absorbing another hit, spinning away again. Before he even had a chance to look down the field, Dickenson fired a perfect strike to the opposite corner of the end zone to Scott Guernsey for one of the 116 touchdowns he threw in his UM career.
"He hadn't even looked down the field," Wells remembers 22 years later. "I remember watching that on film and wondering how he could ever possibly know Guernsey would be there. At that point, I thought he really might have eyes in the back of his head."
Any fan of the Big Sky Conference remembers a seemingly endless string of similar highlights from Dickenson's storybook career. The elusive, clutch, timely quarterback rose to the occasion like few other college football players. For the duration of his time as Montana's man under center, Dickenson brought a refuse to lose attitude that resulted in arguably the greatest and most important career the Big Sky Conference has ever seen.
"The Big Sky Conference has risen to become one of the premier conferences in the West and much of that has to do with the rise of Dave Dickenson and the Montana Grizzlies," said Mike Kramer, currently the head coach at Idaho State who was the head coach at Eastern Washington during Dickenson's playing days in the mid-1990s. "When Montana won the national championship (in 1995), it thrust the Griz into the stratosphere and the rest of the league has been chasing them ever since."
In Dickenson's first year as a starter in 1993, Montana won its first Big Sky championship since 1982, the fourth league title in UM history. In 1995, Dickenson threw for 5,676 yards and 51 touchdowns (including the playoffs) in leading the Grizzlies to their first national championship in school history.
In his three years as a starter, Dickenson piled up 33 wins in 40 starts. In the regular season alone, he completed 67.3 percent of his passes for 11,080 yards, 96 touchdowns and just 20 interceptions. Add in the playoff and he threw for 13,486 yards and 116 touchdowns.
"We were trend setters in the Big Sky," Dickenson said in an interview in July. "We were playing football then like it's getting played now. No one was playing it like that back then outside the Big Sky."
The three-year run under Super Dave thrust UM into a position as one of America's most consistently successful football schools. The Grizzlies won or shared 15 of the next 17 BSC titles and made the playoffs every single season between 1995 and 2009.
Dickenson has earned a collection of accolades during his storied career, from winning the 1995 Walter Payton Award as the I-AA national player of the year to the 2000 Canadian Football League Most Outstanding Player. While serving as a highly successful coach in the CFL since 2009, the honors have continued to come. In 2013, he was named the Big Sky's all-time greatest athlete. In 2015, he was inducted into the CFL Hall of Fame.
In August, Dickenson received an honor close to home as one of the headlining members of the inaugural class for the newly created Montana Football Hall of Fame. Dickenson is among 13 inductees.
Between 1986 and 1992, the "Air Read" offense helped Montana post 51 wins, seven consecutive winning seasons and advance to the Division I-AA playoffs two times. But the Grizzlies could never seem to rise to the mountaintop in a league flush with Western powers like Idaho, Boise State and Nevada.
Following the 1992 season, many people figured Ashland, Oregon native Bert Wilberger, a former high school teammate of Wells', would follow Brad Lebo as Montana continued to chase its first league title in more than a decade.
"We lived together as freshman and I remember thinking, 'Man, I feel bad for this guy because he's not even going to get to play until he's a senior'," said Wells, who caught 189 passes for 2,733 career receiving yards, the yardage total the most in school history upon his graduation in 1995.
At C.M. Russell High, Dickenson led the Rustlers to a 23-0 record including two straight Class AA state titles. At 5-foot-11, 165 pounds, he didn't exactly garner a frenzy of college recruiters. His high school coach Jack Johnson said he wasn't a particularly diligent worker away from the field or an astute student of the game. Dickenson himself will tell you he isn't a great practice player.
On Saturdays though, Dickenson was magic. In the first game of the 1993 season against Division II South Dakota State, with Dickenson still fighting off Wilberger for the starting spot, the quarterback wrote the first chapter of his mythical career by leading a comeback for the ages.
On the opening drive of the third quarter, Montana lost its fourth fumble of the game. South Dakota State scored to take a 38-7 lead. Dickenson engineered touchdowns on five consecutive possessions to rally all the way back. With less than 30 seconds to play and Montana facing a fourth down from midfield, Dickenson hit a streaking Guernsey for a 42-yard touchdown to give Montana a 52-48 victory.
"When I was younger, I wasn't a good sport," Dickenson said. "I've learned that as I've gotten older. Back then, I would do whatever it took to win."
The following week, Montana fell behind 28-3 at Oregon only to storm back before falling 35-30. The foundation was set. Montana would claim its first Big Sky title in more than 10 years by posting a 7-0 conference record.
"I fear failure, I really do," Dickenson said. "It's something I can't have associated with the last name Dickenson. When you do something and you are a part of it and you are associated with it, I want it to be successful."
In 1994, Dickenson led Montana to the FCS semifinals for the second time in school history. In 1995, Montana continued to build momentum behind their rising star. The hot streak came to a head in the 1995 playoffs as Dickenson threw for 1,500 yards and 13 touchdowns. In the semifinals, Montana destroyed Stephen F. Austin 70-14 to advance past the Final Four for the first time in school history.
At Joan C. Edwards Stadium in Huntington Virginia, Dickenson led the Grizzlies on one of the paramount drives in I-AA history. With Montana trailing 20-19 to the hometown Marshall Thundering Herd, Read remembers calling a time out as his Griz marched down the field. He and Dickenson discussed getting into the proper position for a game-winning field goal attempt. As Dickenson walked away, Read told him not to throw an interception.
"He turned and looked at me and said, 'That's what I had in mind'" Read told Jon Kasper of the Big Sky Conference 18 years later for Kasper's story on Dickenson as the league's all-time greatest athlete. "He was so confident. Everybody around him had the same feeling because he generates it."
Dickenson drove the Griz into field goal range and Andy Larson drilled a game-winning field goal to lift Montana to a championship that changed the course of UM gridiron history.
Football is still a huge part of Dickenson's life. He played 12 seasons of professional football with stops that included Calgary, San Diego, Seattle, Miami, Detroit and Vancouver. He threw for 22,913 yards with 154 touchdowns and 50 interceptions and retired as the CFL's all-time leader in passing efficiency at 110.4 He's been the Stampeders' offensive coordinator since 2011 and took over as the head coach before the 2016 season.
For all his professional accomplishments, Dickenson is still remembered best for his triumphs as a Grizzly. The Big Sky Conference has seen just two national championships — the 2001 Griz and the 2010 Eastern Washington Eagles — since Dickenson's departure, something that only aids in the growth of his legend.
"I don't think there's a better Grizzly," Wells said. "You think about where the team had been when we started to where we ended with a national championship, that largely had to do with Dave's skill, brilliance and leadership. When you take everything into it, not just athletic ability but the leadership and the refusal to lose, you start with Dave and then it's who is second? There might be 30 guys who might be second but Dave is No. 1."
By COLTER NUANEZ