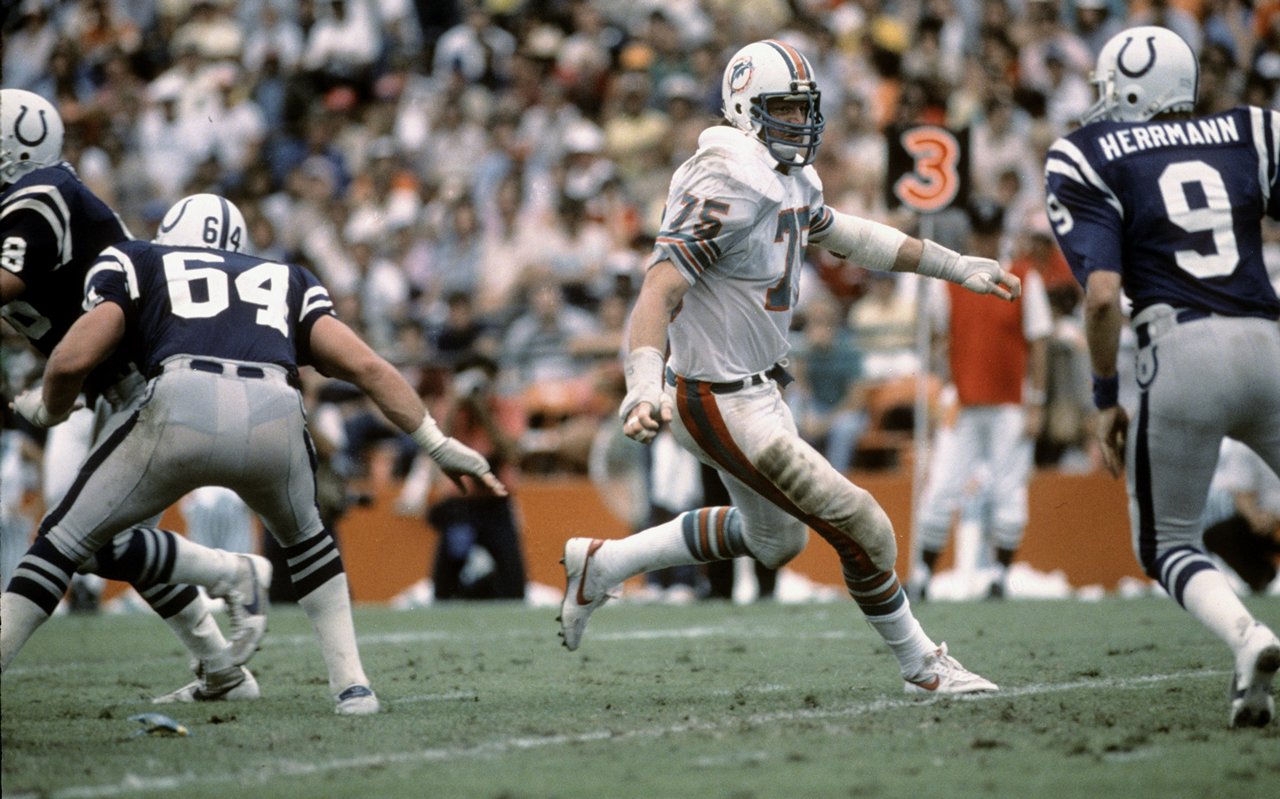 Doug Betters
One wouldn't find an argument from Grizzlyville that Doug Betters, while he played but two years at the University of Montana, is the most decorated defensive player in school history.
With legendary quarterback Dave Dickenson being named to the College Football Hall of Fame in 2018, there's also no doubt who claims that distinction on the offensive side of the ball.
Not only was Betters an integral member of the fabled "Killer B's defensive front that brought Miami to Super Bowl XVII and XVIX but he won the NFL's Defensive Player of the Year Award in 1983, was named to the AFC Pro Bowl teams in consecutive seasons in 1983 and 84 also when he was the Dolphin's Outstanding Defensive Lineman.
Named by fans to the Dolphin Silver Anniversary team in 1991 Betters was inducted into the Miami Ring of Honor during a ceremony at Dolphin Stadium in 2008. When discussing being drafted by the Dolphins in the '78 NFL draft, he replied "I was just like most rookies, it is surreal to be standing on the same field as legendary coach Don Shula, the winningest coach in NFL history, pro bowlers Bob Griese, Larry Little and Bob Kuechenberg on offense; defensive players Vern Den Herder, linebacker Kim Bokamper and D tackle Bob Baumhauer. Nearly all these players had been in a Super Bowl or were All Pros."
An Illinois native he played defensive tackle for the Grizzlies in '74 and '75 before transferring to the University of Nevada.
Montana Head Coach Jack Swarthout expected big things from, Betters his second tear in the program describing him in the '75 press guide as one of the best he'd seen in Missoula.
The redheaded youngster has fine quickness, is a hard hitter and has good football instincts, he said.
Described in the Press Guide as "an impressive sophomore" Betters anchored the five-front Griz teams that won nine games and lost 10 during Betters' time in Missoula.
At 6-foot 9, 235 after following assistant coach John L. Smith to Nevada to play for Chris Ault, Betters was a sixth round pick (163) in the NFL 1978 draft by Miami.
In a 10-year professional career all with Miami, Betters played in 146 games, registering 64.5 sacks and six fumble recoveries.
For a time after retirement from the NFL, Doug guided fly fishing on the Flathead River in Montana for Glacier Wilderness Guides and class 4 whitewater on the Lochsa River in Idaho for Lewis and Clark Trail Adventures.
Partially paralyzed in 1998 in a ski accident at Big Mountain Resort on the same ski hill where his good friend and skiing partner Paul Schafer lost his life five years before.
Expert skiers Betters, Schafer and artist friend Tom Sander were skiing out of bounds late in the day reportedly to avoid a series of icy moguls when Paul fell sliding 100 yards down hill before awkwardly hitting a tree, breaking his neck in two places and rupturing his aorta.
While it is believed Schafer died instantly, Betters continued to do CPR until his friend was evacuated from the hill.
But Doug's spinal cord injury barely slowed him as he continued his work on the Winter Classic, a non-profit fundraiser he founded in 1985. Doug just does the work from a wheel chair these days.
The organization has raised more than $2million for child-related causes. Betters is involved with numerous other charitable organizations, including the Special Olympics and United Way. In 2002, he received the Big Brothers/Big Sisters of Montana Award. As of this induction banquet, he resides in Whitefish in the summer and Florida in the winter.
Ever a giver, Betters played a formidable role working with the UM defensive front in the championship year of 1995 and the following return to the championship in 1996.
Recently married to wife, Jennifer, Betters was inducted into the University of Montana Sports Hall of Fame in 2003. Doug is looking forward to returning to Montana to join the 2018 class of the Montana Football Hall of Fame and to see friends like 2017 inductee Bill Kollar and 2016 inductee Jan Stenerud. Jennifer says of husband Doug, "he's definitely still a mountain man, he wheels himself to the hills and he has a specially equipped drift boat to fish from."
Written by Mick Holien for the Montana Football Hall of Fame