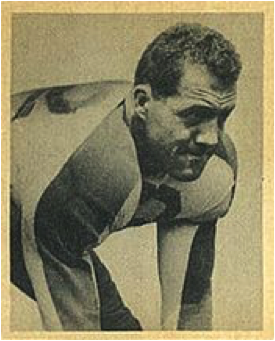 Victor Lindskog
Legacy Selection
Born and raised in Roundup, Montana, Victor Lindskog played various sports while attending Roundup High School. After graduating in 1932 he worked in the local coal mines, before moving to Cut Bank to work in the oil fields a year later.
Showing tremendous boxing potential, a local oilman sponsored Lindskog to move to Southern California to train under one the top boxing coaches in the nation. He would later place runner-up in the 1938 California State Amateur State Championship in the heavyweight class.
Later that year he quit boxing and enrolled into Santa Ana Junior College, where the 24 year old "dabbled" in football. Having never played the sport, the 6-2, 185 pound green horn became the starting blocking back for two seasons.
Stanford came calling and Lindskog ventured north to play two years for Clark Shaughnessy and anchor the line at center. Running the innovative "T" formation, Stanford would go undefeated in 1940 and beat Nebraska in the Rose Bowl that year and finished second in the national rankings. In his two years with Stanford, Lindskog earned 2nd team All Pacific Coast honors and All-American Honorable Mention honor both seasons. Following his college career, he played in three college all-star games including the East-West Shrine game
Drafted by the Philadelphia Eagles in the second round, Lindskog didn't join the team until 1944, where he played center and linebacker. In 1948 he was used solely as the starting center, and helped the Eagles win back to back NFL titles in that year and in 1949. In 1951, his final season as a player, the thirty-six year old Lindskog was voted to the NFL All-Pro team. As a scout in later years, Lindskog won two Super Bowl rings with San Francisco.